Card games are growing in popularity year on year, and with that trend rising comes an overwhelming amount of products and gifts made by third parties.
I have tested a wide range of them through my years in the gaming industry, and i have put together the ultimate list for those looking to buy gifts for friends or family members interested in collecting and playing some of the best trading card games on the market.
So, let me show you the best gifts for card gamers, that I approve of.
11/09/2023 04:40 pm GMT
1. Quiver Time Apollo Sleeves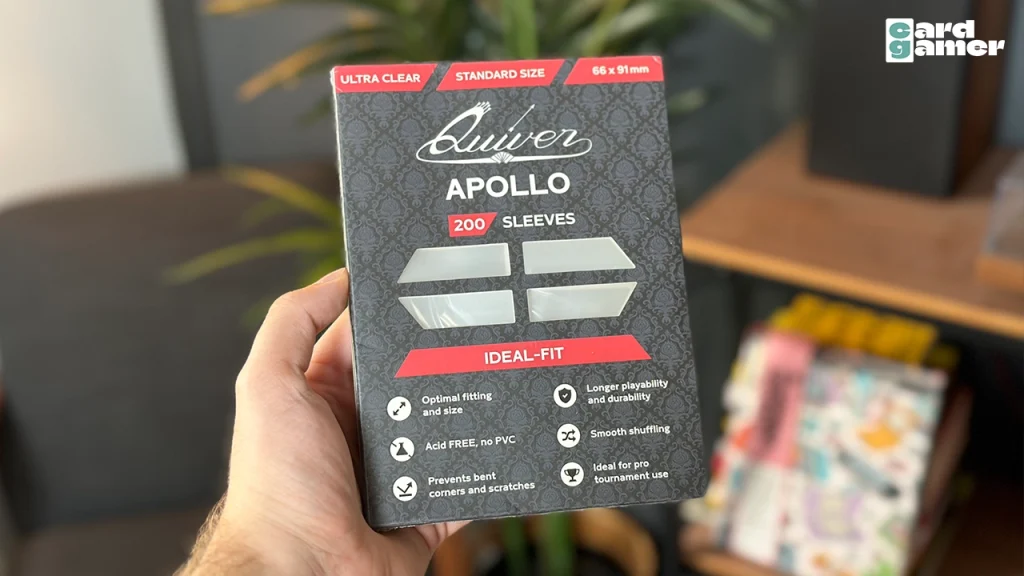 I have used many different sleeves throughout my history of collecting, some good, some bad and some darn right ugly.
But the best trading card sleeves on the market right now are made by QuiverTime, and are known as their Apollo Premium Sleeves.
They are classed as premium sleeves because they are thicker than your typical trading card sleeves, but not too thick so that you can't put them into binders.
I find them to be the perfect thickness coming in at 100 microns thick, and as soon as you slide your card in, you'll get a sense of trust because there isn't much that will scratch through these sleeves, that's for sure.
Like all of their sleeves, they are acid free and feature no PVC, so you'll cards will be protected for years to come, and are easy to shuffle thanks to the exterior coating, making them a good professional sleeve to use in tournaments.
I've been using these sleeves for years, and I have yet to find anything better, they are superb!
2. VaultX Deck Boxes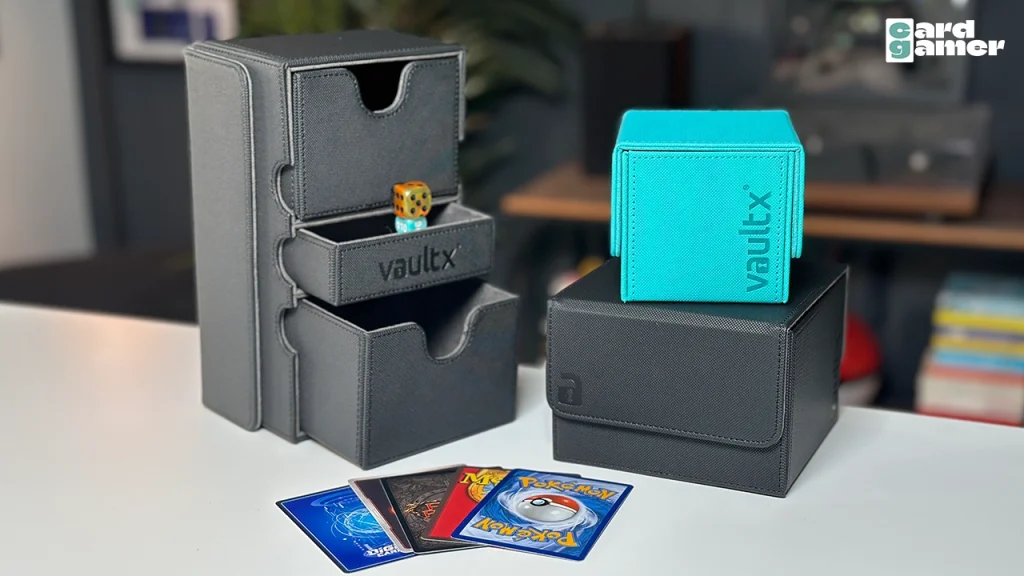 If you're like me and like to travel with your collections and play card games with your friends, then there's no easier way to store and travel with your cards than using deck boxes.
We were lucky enough to meet with the VaultX team at the London Card Show this year and talk with them about their high quality deck boxes.
We have tested them over the last few weeks and are impressed with how sturdy, and modular they are, allowing us to mix and match them depending on what card games we are playing.
They come in a wide range of sizes, shapes and colours, with the larger "game box" products being able to store accessories too.
VaultX have almost perfected their line of deck boxes, allowing protection, and portability to go hand in hand.
These are some of the best deck boxes on the market, and are now my go to when travelling for games night.
3. QuiverTime 1000+ Card Carry Case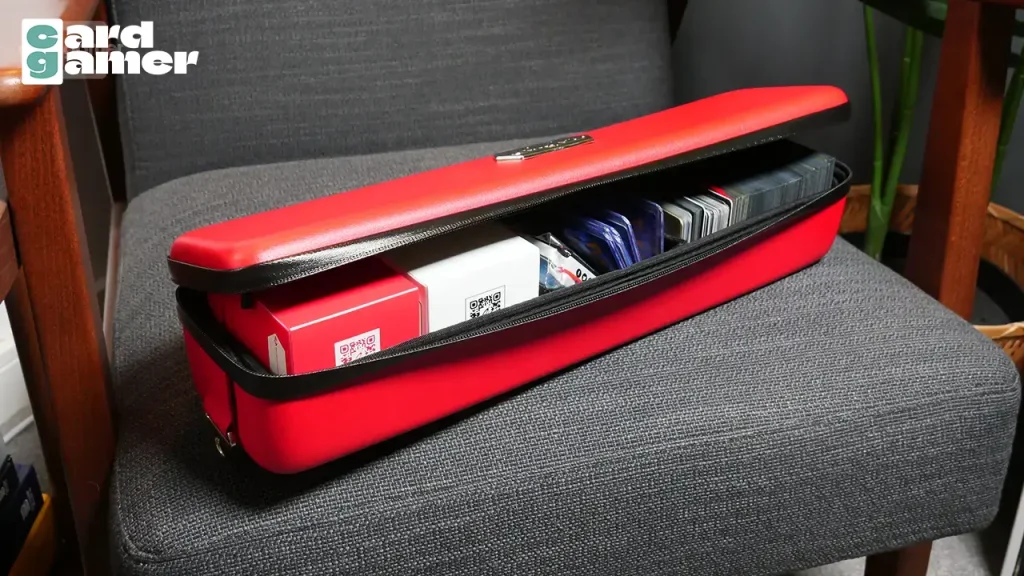 If you like to travel with a lot of cards, and find deck boxes just don't hold enough of your collection then there's an oversized carry case made by QuiverTime that can hold close to 1400 cards including sleeves, deck boxes, dice and more.
This carry case features a vegan leather, a shoulder strap, water-resistant zipper, micro-fibre interior, dividers and a netted section to put your counters and dice.
Don't get me wrong, it's long, coming in at 17.5 inches long, but it's the only carry case you'll ever need thanks to its storage space and ability to create compartments based on certain decks you have.
It comes in a wide range of colours too, with a metal logo on the top to finish it off with a premium look.
4. SlabMags – Graded Card Protection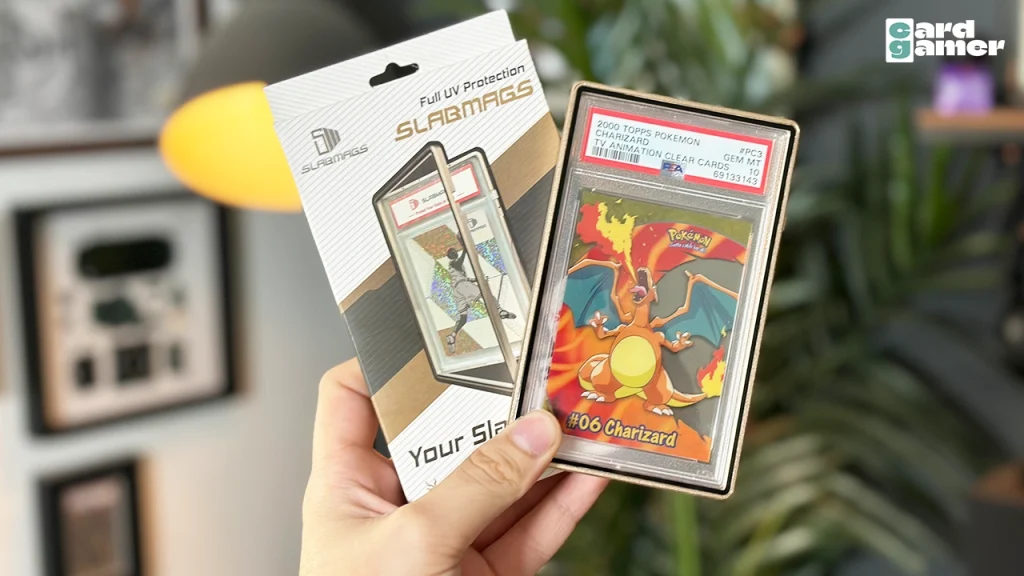 Slab protectors are a growing trend, and i'll be honest there's a lot of bad ones on the market that are simply bits of low quality plastic that are only worthy of being put in a bin.
But I have come across a few high quality slab protectors, my favourite being one by Slabmags.
What makes the Slabmags different is that instead of plastic, they are made from aluminium and contains your graded card, rather than surrounding the edges.
This gives your beloved collection even more protection, and more importantly style…
It also has UV protection too, meaning you can keep this out on display without worrying about sun damage.
It's not perfect, the stacking hinges are quite poor and the plastic lock is a bit fidgety at times, but it's a superb way to store and display your most valuable slabs.
5. VaultX 12-Pocket Zip Binder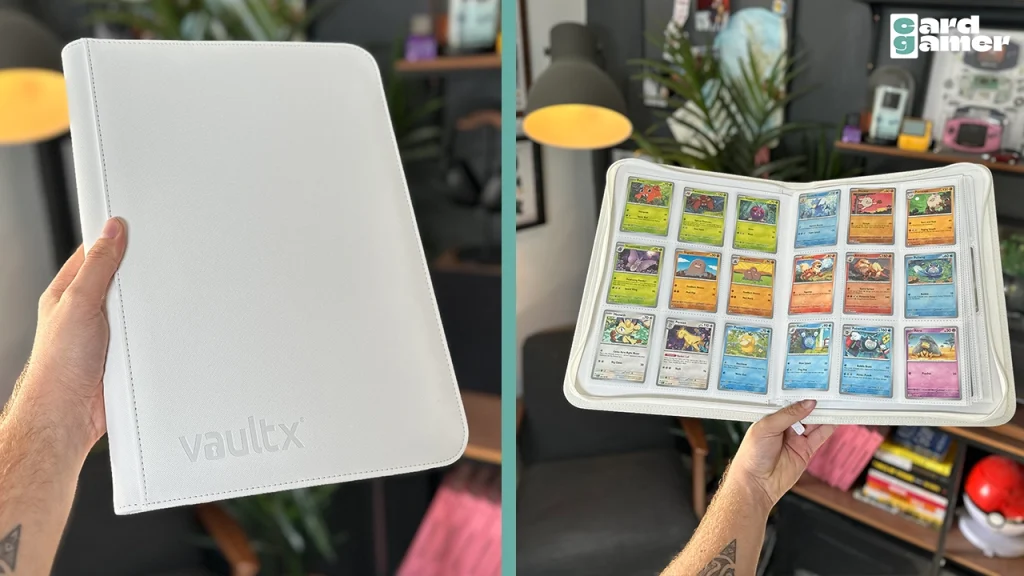 One of the best trading card binders on the block is one made by VaultX, and more specifically their 12 pocket Exo-Tec binders.
These binders are for the best cards in your collection. It features a good amount of padding that surrounds the front and back of the binder, coated in a water-resistant, non-slip Exo-Tec material, making it versatile and rugged when travelling.
The pages themselves are durable, yet flexible, allowing you to slide your card in with ease, but are then locked in place so that they have little movement when on the road.
There's 20 pages featuring 24 card slots, making it a total of 480 cards, perfect for most card sets with space for your doubles. Each page is made with acid-free PVC material that won't damage your cards.
Each purchase comes with a 12 month warranty too, this goes to show how much VaultX trust their products.
6. Custom Playmats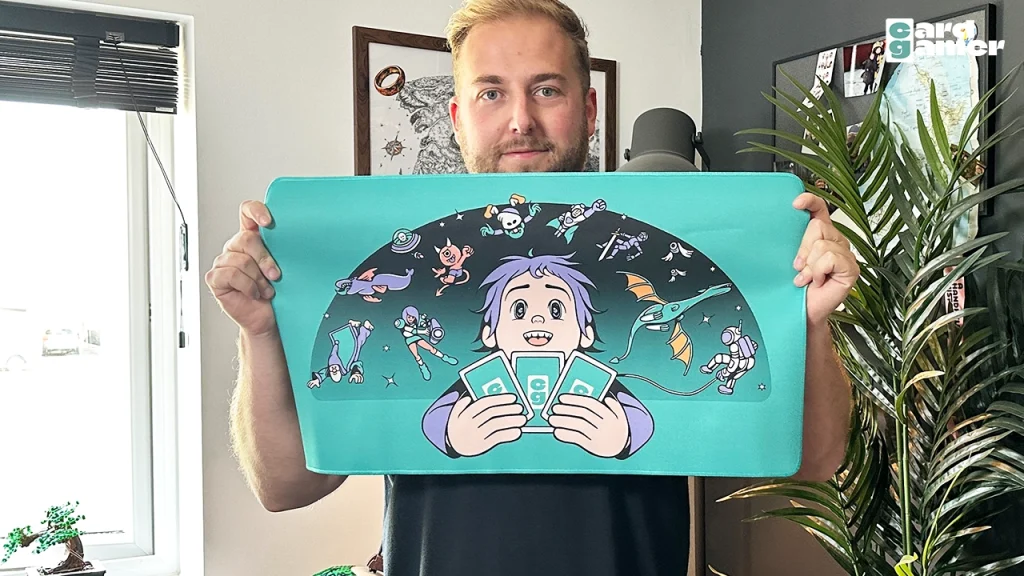 When I first orderd a custom playmat by YourPlaymats.com, it was simply a test to see if we can potentially start selling our own playmats in the future.
I wasn't expecting them to come out this well, and it was incredibly easy to do thanks to their step by step process of uploading the images on their website.
The colours are a little off, i'll admit, but the print quality has come out great. The image is sharp, centered, and the edges are a matched colour too to make everything look in sync.
Because it's custom it does take a couple of weeks to ship, so take that in mind when ordering. You can also create your own size too if you need something custom, or want something for your keyboard and mouse to sit on.
Overall, I am impressed, and i wasn't too expensive either!
7. Mythical Vault Dice Box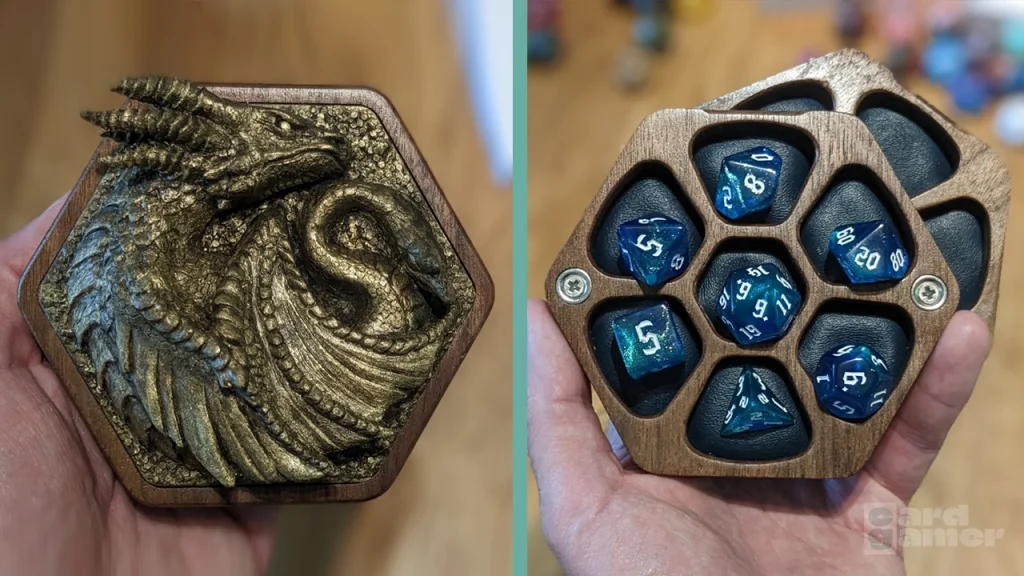 Have you ever wanted a hand made dice box that looks like a dragon? Yeah me too.
This beautiful masterpiece came to our attention when it was released on Kickstarter, crafted by passionate RPG and tabletop enthusiasts behind Mythical Vault.
They were nice enough to send over a review sample for us, and we can confirm, it's as good as it looks.
We have the golden dragon variant, that features magnets to keep it shut, but with a forceful twist it opens up and showcases all of your dice, each sitting on a leather section so that it doesn't rattle much.
This Mythical Vault Dragon Dice Box also comes in a wide range of wood too, from Oak, to Walnut to Maple, and some even come with different types of dragons too!
It's a great gift for those that like playing card games with dice or table top games too, and you'll be supporting a small independent business if you buy one!
8. QuiverTime Orion Playmat Tube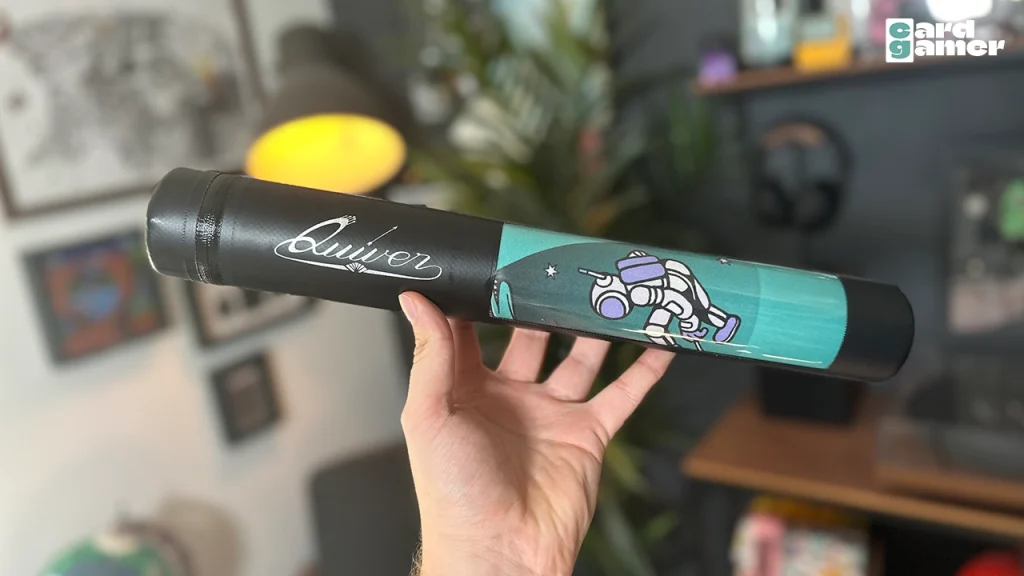 Can you tell that I am a fan of QuiverTime products?
This time, I am showcasing their Orion Playmat Tube, it's a very simple, yet effective product that allows you to bring your favourite playmat with you to tournaments or a friends house for game night!
Again, made from a fake leather, it features a zipped top that allows you to slide in your playmat, and keep it weather-proof.
It also comes with a shoulder strap to make it easier for carrying.
My favourite feature is that it comes with a transparent window, allowing you to switch which playmat is inside, should you have multiple in your collection.
A perfect gift for players who enter tournaments or go to frequent game nights!
9. Collector's Cabinet Custom Frames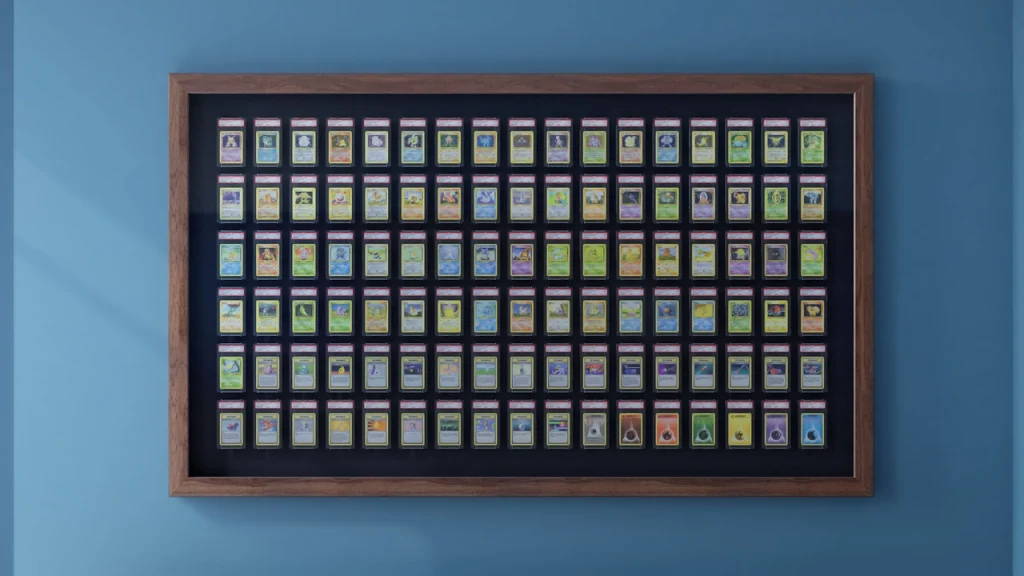 It wouldn't be a gift guide if there wasn't one obscenely expensive item on the list, right?
This is an item I have been wanting for many years, but have yet to pull the trigger.
A company in the UK called Collector's Cabinets are well known for creating custom graded card frames, storege solutions and cabinets.
These aren't your typical cabinets, these are hand made, custom storage solutions built for you and your collection.
The frames can be small or large, featuring the whole base set Pokemon collection if you wish. Your graded cards simply clip into the metal arms, making it easy to remove and insert.
The craftsman behind this company can even add hinges to your frame so you can open it up when you please, heck they even make cabinets that have built in alarm systems should you want to have a way of protecting your collection when you're not at home.
If you want to go all out, and splash the cash, this is by far the best gift for card gamers… rich card games should I say.
10. Graded Cards Storage Case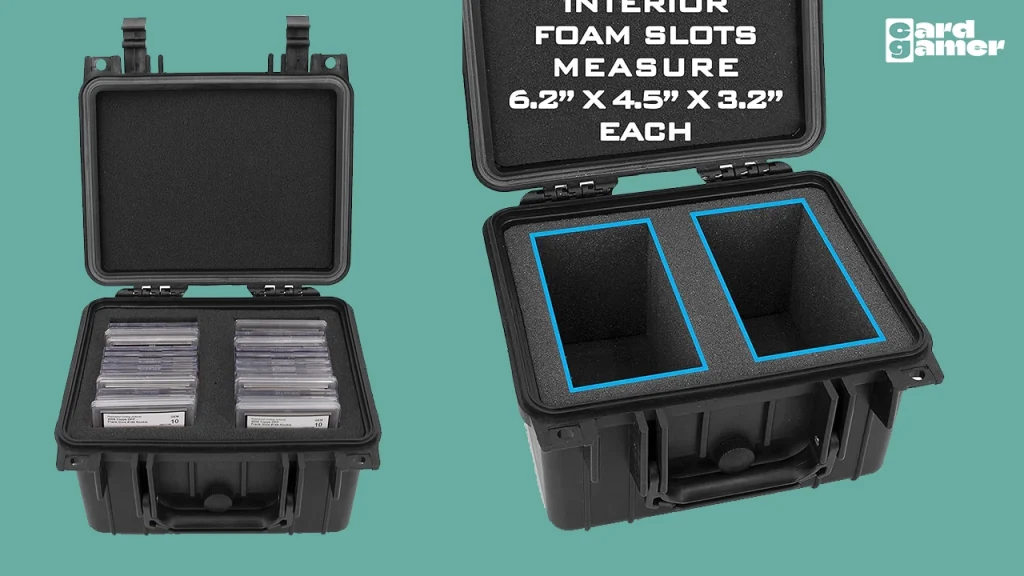 Graded trading cards can take up a lot of space, and they're not very easy to transport, especially when you're moving around a lot of slabs.
One way to get around this is by snagging a storage case specifically built for graded cards.
These storage cases are typically built for protection against bumps, drops, scratches and the elements. you'll likely see these at card conventions because they're safe and secure.
You can also add tracks to them, customise them, and cut out sections of the foam pads to create custom segments.
These are currently one of the best ways to transport your slabs.
This article may contain affiliate links. If you use these links to purchase an item we may earn a commission. Thank you for your support.