Best Premium Sleeves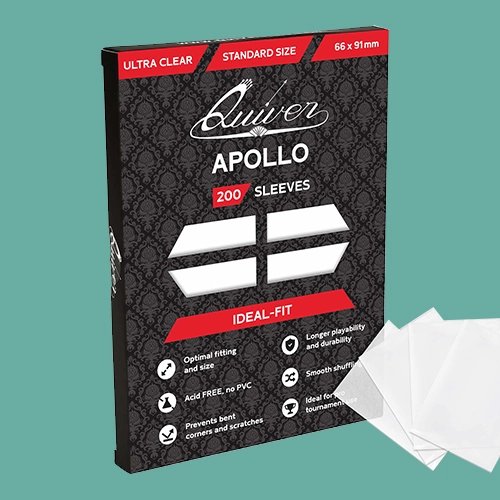 The best premium sleeves on the market. They're thick, non-slip, water resistant and are super durable, these are the sleeves we use daily.
Best Penny Sleeves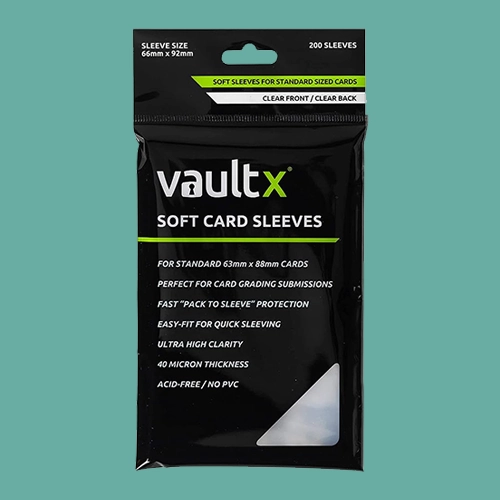 The best penny sleeves to buy in bulk are made by VaultX. These are the sleeves to protect your uncommon cards and the bulk of your collection, they're incredibly well made.
Best Budget Sleeves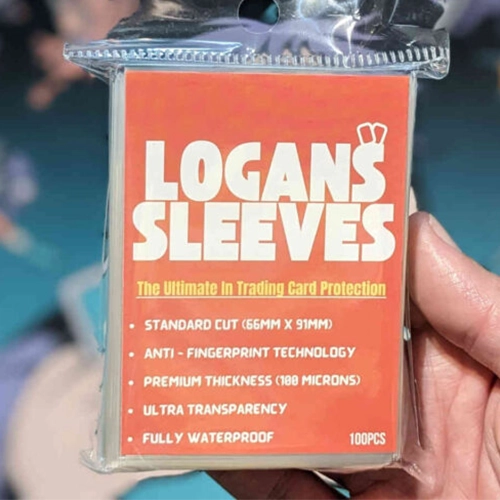 Not very well known sleeves, but these budget accessories have impressed us, coming in at an affordable price with respectable quality!
It's time to carefully protect your precious cards – as we check out the best trading card sleeves!
One thing any collector or serious player understands when it comes to their card collection is the need for sleeves.
Even light handling of cards can leave wear and tear, no matter how careful you may be with your cards.
Not only that, but we've also all known the crushing disappointment of finding foil cards curling at the edges – which can happen surprisingly quickly depending on how and where they're stored.
Though we can't promise to stop that particular issue, we're going to check out a range of different types of sleeves – and let you know the best in each category.
So without further ado, let's check out the best trading card sleeves!
What Are The Best Premium Trading Card Sleeves?
In this category, we look at the top three best card sleeves that you'll use if you want to either store your cards safely or play with them, without any fear of damage regardless of the table conditions.
Though just as an aside regarding table conditions, we'd highly recommend always using a play mat, whether you're sorting through your card collection or playing a game with your cards.
So here are our recommendations for the best Premium Trading Card Sleeves.
1. Quiver Apollo Clear Card Sleeves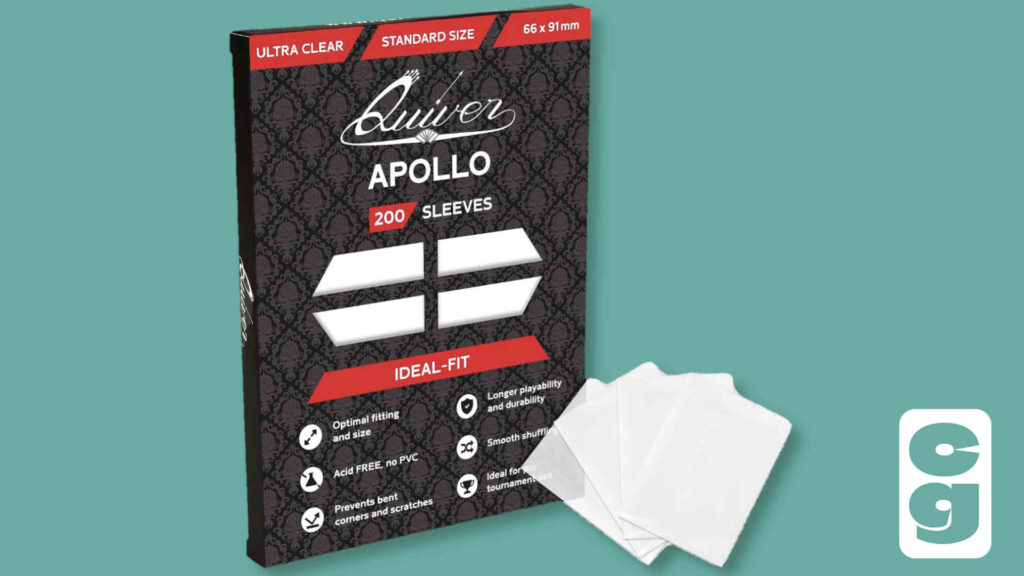 Quiver make some of the very best, most fully featured card game accessories on the market.
Don't just take my word for it – here at Card Gamer, we've already covered other Quiver products; check out our Quiver Citadel Deck Block review and Quiver Card Case review to see just how highly we rank their accessories.
So it's no surprise that we're big fans of their card sleeves too.
In fact, we'd go as far as saying that, in terms of value for money and features, their Apollo Card Sleeves are incredibly difficult to beat.
They're available in either clear or with opaque black backs; your preference and requirement will likely rest on the current condition of your cards.
For example, if you have pack fresh cards with no visible marks that'll allow them to be identified by the condition of the back, then the clear sleeves are a great option for you.
If, however, you're using older cards that show some wear and tear, then the opaque version will be best for your games of Magic: The Gathering or Pokemon, for example.
Opaque sleeves are also perfect for the increasingly common double-faced MTG cards; you can find more information and insight on these in our how to use double-faced cards in Magic: The Gathering article.
So, why do we rank these sleeves so highly?
Well, they're incredibly consistent and reliable, for a start.
Quality control is a big concern for players and collectors investing in new card sleeves – and we're pleased to say that we've never had any issues with Quiver sleeves.
Also, their non-PVC construction and 110 micron thickness makes them ideal for both storing and playing with cards, without fear of your collection being damaged even during use.
That 110 micron thickness is key here – typically, when we're looking at premium sleeves, we aim for sleeves at a thickness of 100 microns, so anything above that (though adding to the overall height of a deck) does mean you can be comfortable that your cards are definitely protected.
The overall transparency is perfect on these sleeves too, so you can be sure there's no issues with reading the sometimes tiny text on your cards.
Finally, the fit for standard sized cards (which covers games such as the aforementioned MTG and Pokemon, as well as other titles such as Disney Lorcana, Flesh and Blood and Achroma) is ideal too – so you won't have any problems with cards sliding out of or otherwise moving around within the sleeves.
2. Gamegenic Prime Sleeves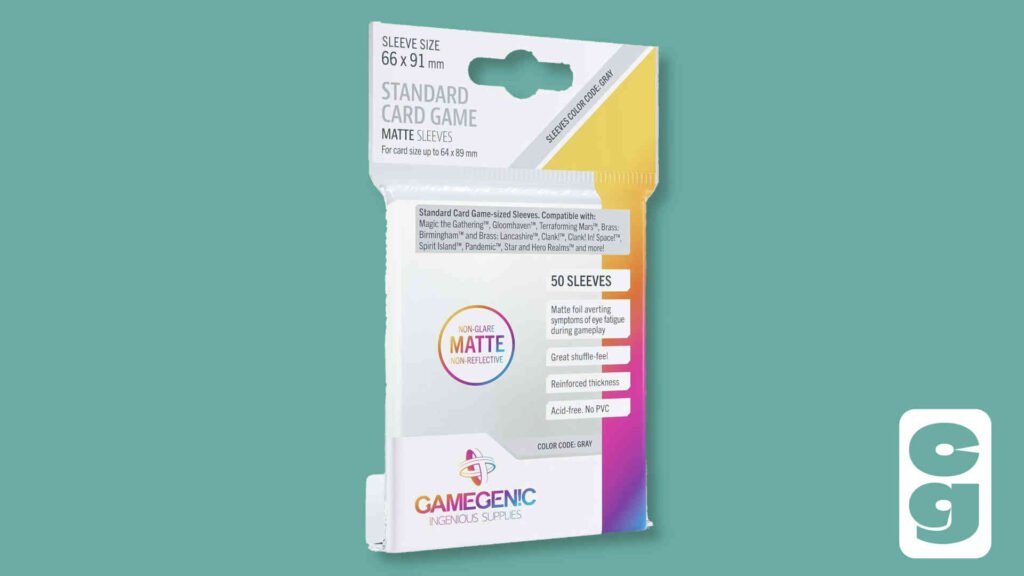 Here at Card Gamer, we're big fans of Matte sleeves for use during play.
Though a gloss finish on sleeves is great for displaying cards, Matte is perfect to avoid sleeves being too reflective in brightly lit conditions.
The absolute best Matte sleeves we've found are these Gamegenic sleeves, which have a Matte finish on both sides and still provide great clarity for the cards within.
They also feel very well made, with the finish proving great for shuffling decks too.
Though sometimes suffering from availability issues, they're available in different pack sizes and – if gloss or coloured backs are your preference or requirement – in a wide range of different types too.
They're a little on the pricey side for 200 sleeves, but these Gamegenic sleeves have always proven to be reliable and practical for long game sessions.
Especially as the sleeves themselves seem remarkably resistant to picking up fingerprints or other marks, despite that matte finish.
3. TitanShield Standard Sized Premium Sleeves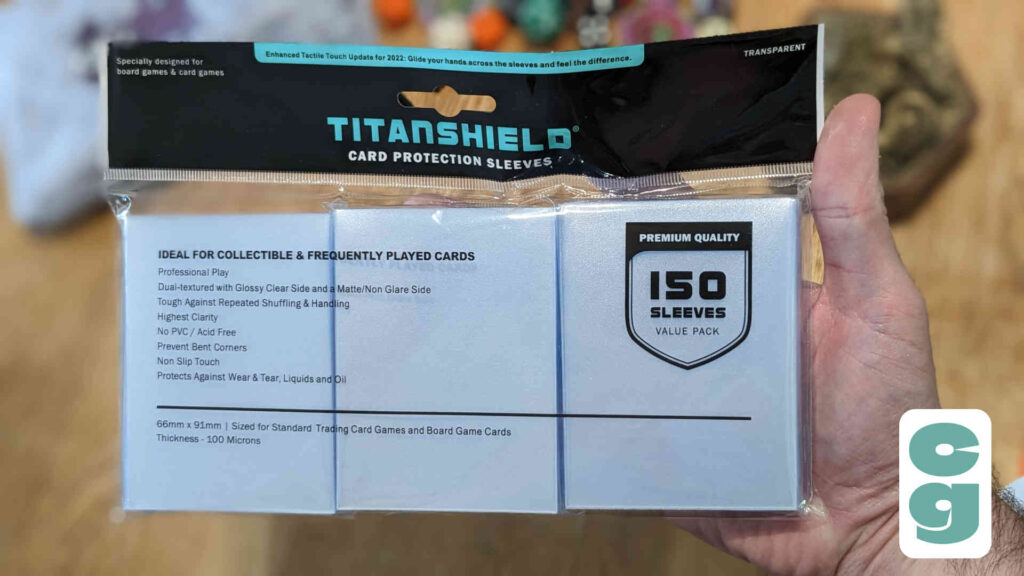 For a considerable amount of time, these TitanShield Premium Sleeves were the only choice for some of us here at Card Gamer.
That's because these sleeves can be purchased in a decent sized pack – these will cover you for at least two Pokemon or MTG decks, with some left over – and they aren't too expensive either.
They're not the cheapest options on the market, that's for sure – but they do have some great features that keep them high in our estimation.
Firstly, you won't fail to notice when you handle one of these TitanShield sleeves that they have a textured back.
This immediately gives them a unique, tactile feel that sets them apart from almost any other sleeve we've used.
It does, however, make a full 60 card deck a little unwieldy in practice – they can add quite a bit of thickness to the cards that makes them a bit challenging to shuffle.
However, their sharp corners and that thickness also offers reassurance for collectors and players that their cards are well protected by strong, thick and unique-feeling sleeves.
4. Dragon Shield Clear Sleeves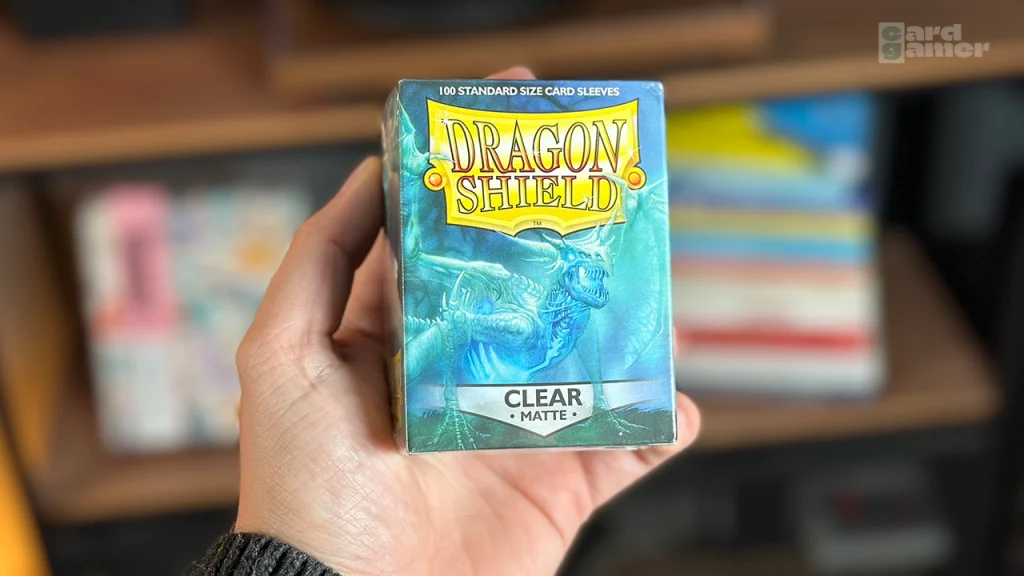 With a huge selection of coloured sleeves in both Matte and Gloss finishes, Dragon Shield offer one of the best sleeve ranges on the market. 
This allows collectors (and players) to find exactly the right option of sleeve for their personal taste, or to fit a specific theme for the cards in their collection.
The fact that they're also packaged in cardboard deck boxes even means that the packaging can be used for your cards if needed too, which is impossible with the other entries on this list.
Which of course is due to the way that Quiver, GameGenic and TitanShield package their sleeves.
Dragon Shield's distinctive packaging also features a different dragon depending on the colour and finish of the sleeves; though of course this is completely inessential, it's a nice touch that each of these creatures has its own lore – it's definitely a clever bonus for players and collectors!
Though their sleeves are highly rated for their quality, reliability and even availability, Dragon Shield sleeves are incredibly expensive compared to the competition.
We're comfortable with buying packs of Quiver or TitanShield sleeves repeatedly, given their price points, but we couldn't say the same for Dragon Shield – you're likely to only want to use these for a specific deck or subset of your collection, given their cost.
That said, you absolutely get what you pay for – so Dragon Shield sit comfortably within our recommendations of the best Premium Card Sleeves!
What Are The Best Budget Trading Card Sleeves?
Though we're big fans of all of the sleeves we've listed already, sometimes you need sleeves to protect a much bigger volume of cards – and, though you don't want to spend Dragon Shield money on protecting hundreds of them, you definitely don't want to skimp on the quality!
So what are the best options for cheaper sleeves that you can still rely on? Let's check out the best budget trading card sleeves!
1. Logan's Sleeves
Seemingly a new player in the trading card sleeve market, Logan's Sleeves won't win any awards for their plain branding or oddly generic, barebones packaging.
However, the important thing is the quality of their sleeves – which, for the price, are second to none in our opinion.
In fact, if you need sleeves in greater numbers, the 500 pack of Logan's Sleeves offers the best value for money in the market bar none, in our opinion.
At 100 microns thick per sleeve, they definitely don't feel like 'budget' card sleeves in terms of their quality either.
Though we've had one or two sleeves with a production fault, considering we've used thousands of these to sleeve cards in our collection, we don't think that's bad going at all.
The gloss finish offers incredible clarity for your cards too – so if you're displaying them in a folder behind another window of plastic, you can be certain that they'll retain their readability as well!
2. Vault X Card Sleeves and Deck Box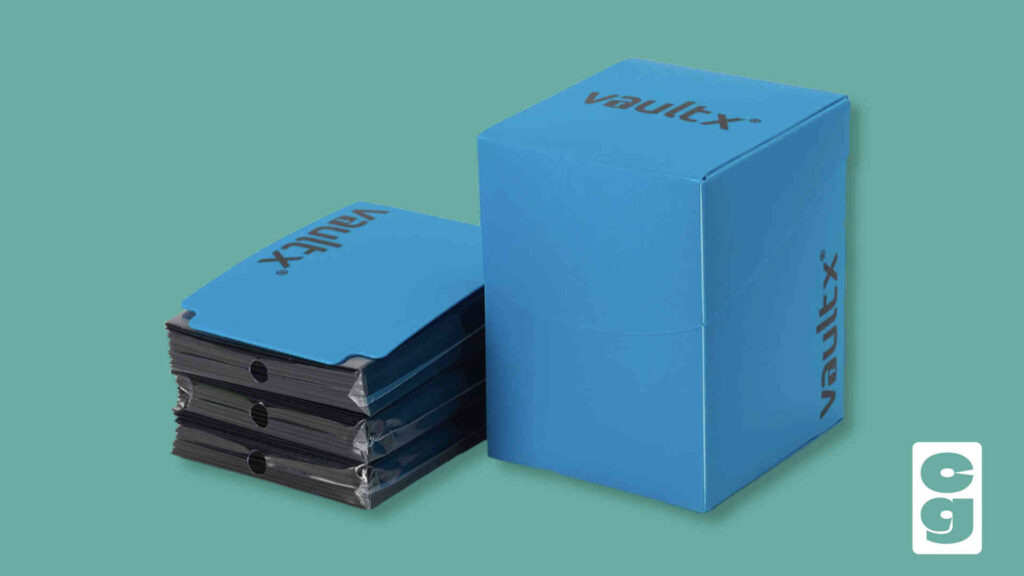 Vault X are another company that we think very highly of here at Card Gamer, though they may not be your first thought when sleeves come to mind.
That's because they're mostly known for their excellent binders and deck boxes – you'll find their products on our best trading card binders and best Commander deck boxes lists.
They don't sell separate premium sleeves – but the opaque black-backed sleeves packaged with their budget deck box do the job nicely.
Also, this makes the package superb value for money – not only are you getting your hands on 100 nicely made, durable and reliable card sleeves, but you even get a deck box to store cards in too!
3. GoldOars Card Sleeves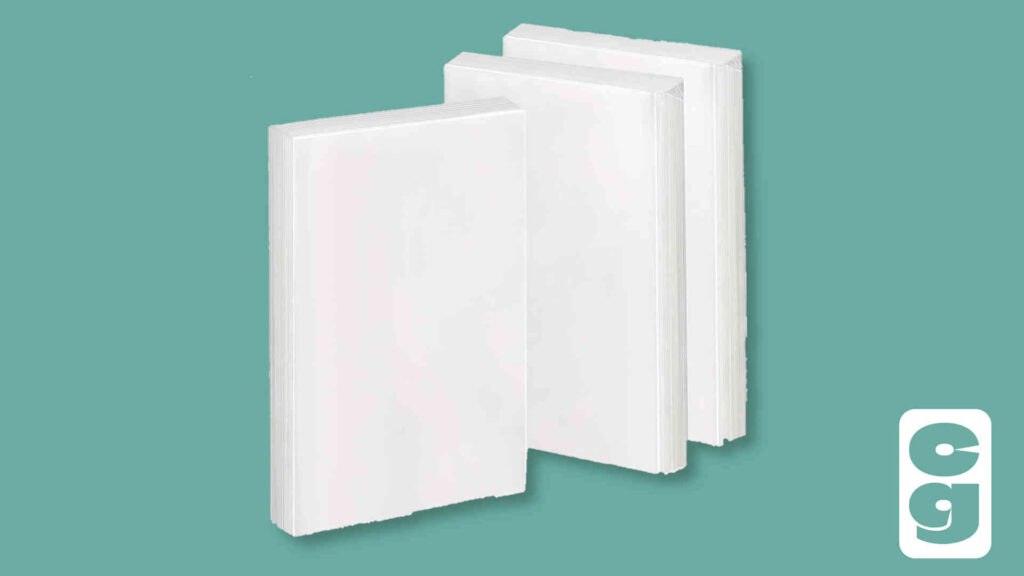 Just like the Logan's Sleeves, these trading card sleeves aren't adorned with fancy branding and won't be winning any beauty contests for product design.
Yet this generic look and lack of branding belies their quality; though certainly lesser than the Logan's Sleeves or Vault X overall, it's difficult to ignore the GoldOars sleeves due to their cost.
For what you pay, GoldOars card sleeves are surprisingly good quality – and there's even a range of colours, including matte (yes – our personal favourite!) to choose from.
You're looking at pretty much penny sleeve pricing, yet a definite step up in quality from sleeves of comparable cost.
On that note – it's time to look at penny sleeves!
What Are The Best Penny Trading Card Sleeves?
Penny sleeves may not be the most practical solution to use for expensive cards or those that'll see heavy play, but for common or otherwise low value cards, they're a no brainer.
They won't offer a huge amount of protection, but they'll give you just enough to ensure that any spillages or dust will be stopped from ruining the less valuable cards in your collection.
So let's check out our recommendations for the best penny trading card sleeves!
1. Vault X Soft Trading Card Sleeves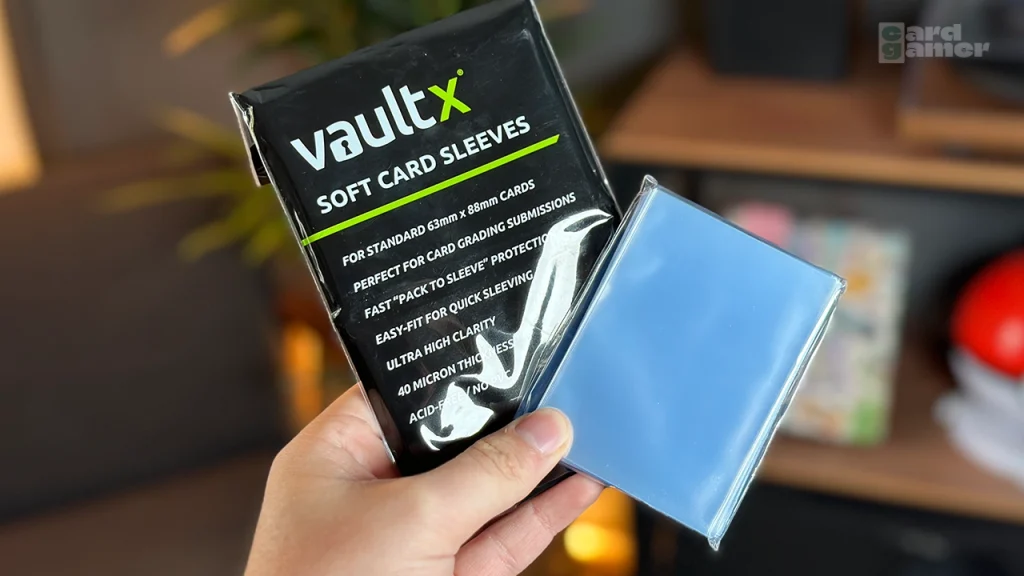 Here they are again – Vault X have really impressed us not just with their folders, binders and sleeves/deck combo product, but also their penny sleeves too.
As they're Acid Free with no PVC, they're perfect for long term storage as well as quick pack-to-sleeve protection.
These sleeves are also incredible value, with a bundle of 1000 costing around $14/£11.
Though Vault X have only been around for a few years, they've quickly established a name for themselves in what can be a crowded and competitive market – with fantastic products that players and collectors know they can rely on.
2. Ultra Pro Penny Soft Sleeves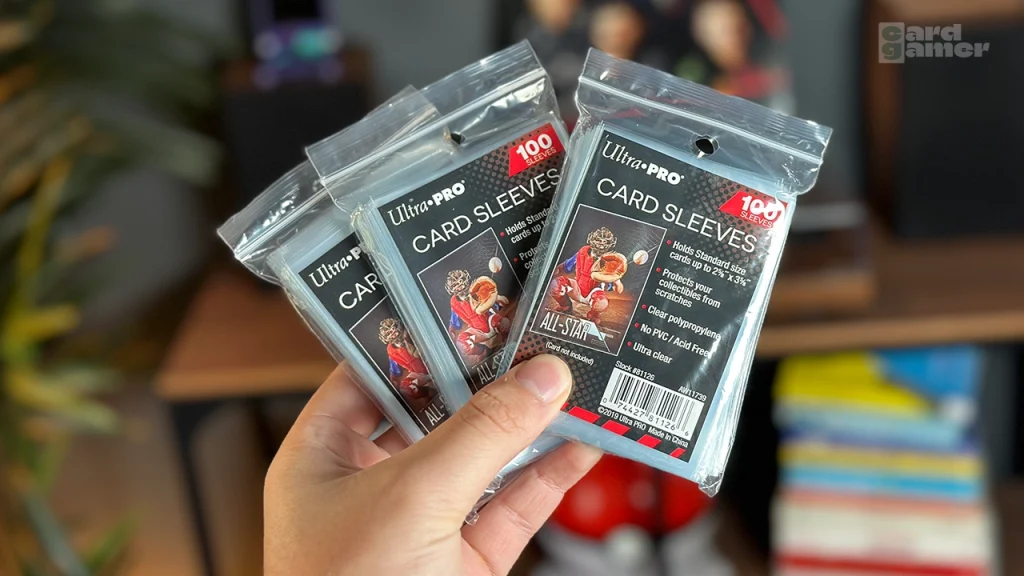 Still one of the most well known and popular names when it comes to trading card protection and storage, I think it's fair to say that Ultra Pro have been usurped a bit in terms of value and features when it comes to premium trading card sleeves.
That said, they have a huge, exclusive, licensed range featuring artwork from Pokemon, Magic: The Gathering and more – so your mileage may vary when it comes to their sleeves.
However, there's no denying their value when it comes to penny sleeves; we still think theirs are among the most reliable and consistently high quality sleeves on the market today.
For example, you can get hold of a bundle of 1000 sleeves for around $17/£13, which is phenomenal value!
Though as with any penny sleeve, they're not particularly suitable for longer term handling or playing of cards, as a way to protect low cost, low value cards in bulk, we'd expect most collectors to have Ultra Pro penny sleeves stashed somewhere in their hundreds!
3. TitanShield Economical Soft Sleeves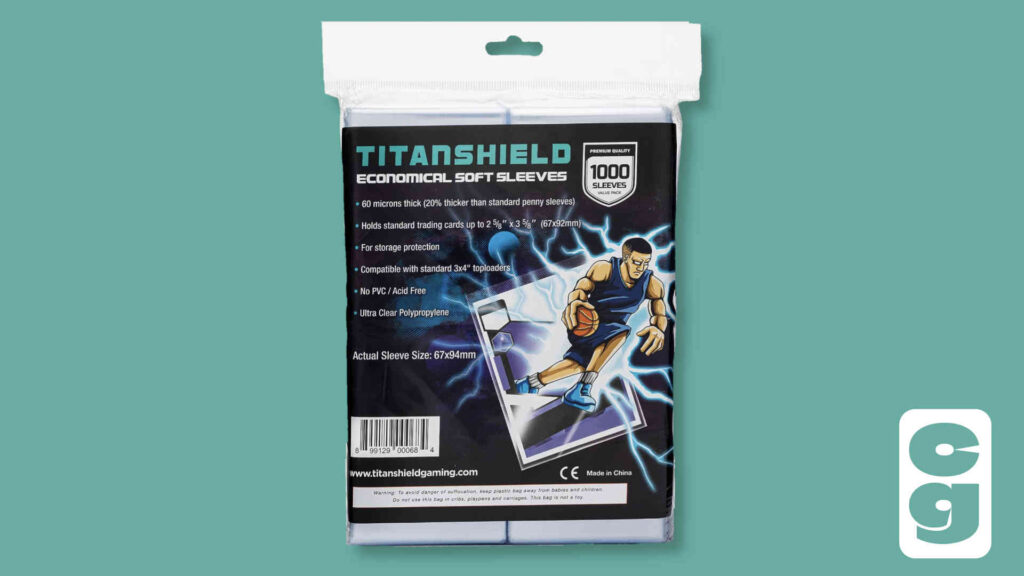 Finishing off our guide to the best trading card sleeves, we have another type of sleeve from Titanshield.
What we like about Titanshield Soft Sleeves is that they're 60 microns thick; with most penny sleeves coming in at 40 microns, these feel a little sturdier than you may expect.
Just like the other penny sleeves on this list, they're also available in large numbers at a decent price – you can expect to pay around $15/£12 for 1000 of these.
So there you have it – our recommendations for various types of trading card sleeve; do note that, though we've covered standard sized sleeves in each of these entries – which fit most card games, such as Magic: The Gathering, Pokemon, Achroma, Flesh and Blood and Lorcana.
Tthe majority of the sleeves featured are also available in 'Small' card game size, which will fit games such as Yu-Gi-Oh and other games that have originated from Japan, so do be sure to buy the right size for the cards you have in your collection!
This article may contain affiliate links. If you use these links to purchase an item we may earn a commission. Thank you for your support.