A premium deck block for life
The Quiver Time Citadel Deck Blocks brings premium fake leather in combination with a functional deck block that will last your for many years, it's hard to hate.
Carrying your winning deck or high value collectible cards in a high quality case is mandatory for those of us that like to travel.
Our first deck block review has landed on our website, and we are very thankful that Quiver Time sent over their Citadel Deck Block to review.
The Citadel Deck Block is their "premium" take on their cheaper, more affordable deck blocks that you may be familiar with.
It was successfully backed on Kickstarter in just 6 days back in 2021, and has gone on to sell thousands of units, making it one of the best commander deck blocks on the market.
Deck Block Design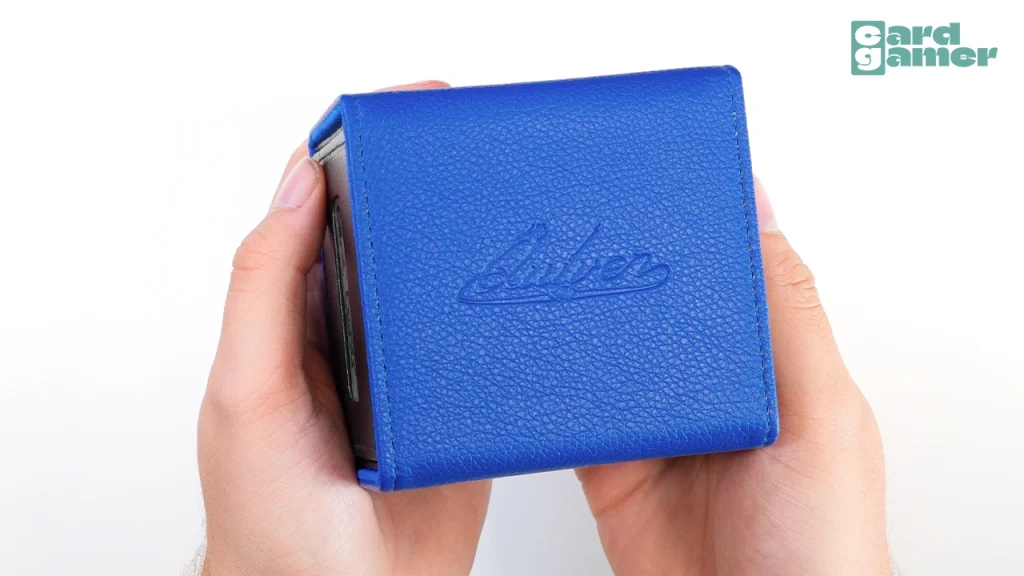 This Citadel deck block allows you organize, protect and carry your cards, dice, tokens and coins.
You may be wondering, how do I get dice in that? Well, let me explain.
The Citadel Block is basically two parts. The first being the outer strip, covered in vegan leather that features 14 incredibly strong magnets that snaps itself to the interior box.
Originally the deck block comes with an elastic strap that secures your block, but its low quality, gets in the way and is a very annoying addition to the product. I chucked it in the bin immediately, and i'm not sure why Quiver Time added this because the magnets do a great job anyway.
The deck block comes in a wide number of colours for you to chose from, and the Quiver signature sits neatly embossed onto the lid.
When you gather the strength to open up the deck block you will find the interior is cotton, with even more signatures, this time a shiny Quiver logo and a small lip that keep the outer strip centered.
The interior box features PU leather on the outside and a soft velvet interior to help your cards slide in an out.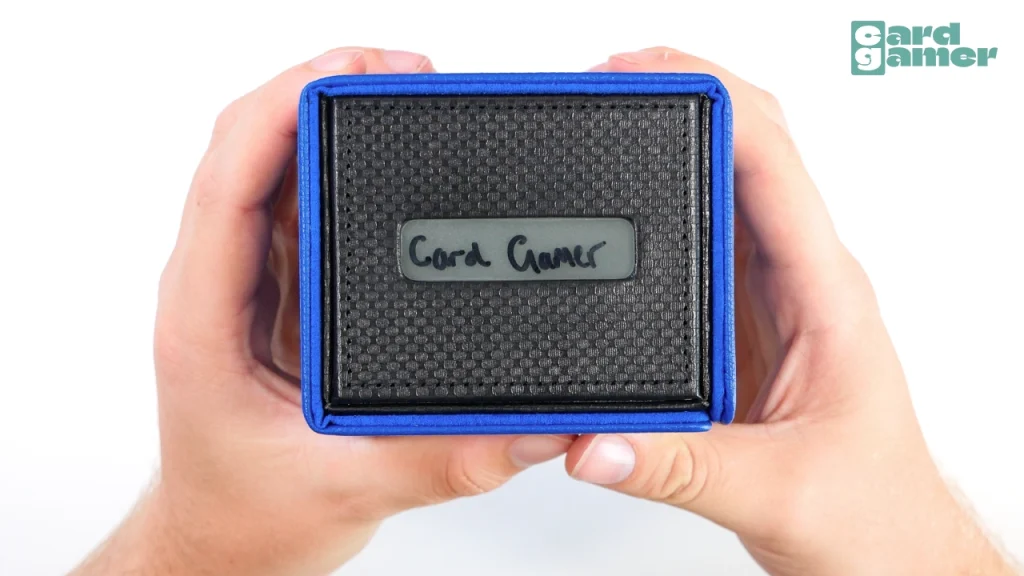 On the sides you'll find cutouts to easily access your cards, and a "tag" section that allows you to write your deck contents on the side, this material allows for ink to be easily removed too, which is a smart feature, making your deck block multi-use over the years!
Nobody likes writing on a deck block and then never having the ability to use it for something else ever again.
The Citadel Deck Block itself can hold 100 sleeved and double sleeved cards when stored side first, but if you want to take counters or dice with you, you can sacrifice 25 of those to then add the diveder at the bottom which can stop your cards from sitting ontop of the device and get damaged.
It's a neat way to get as much long-term use from a deck box, which adds value for me, especially because I hate buying new products because on breaks or doesn't fit my game type.
Build Quality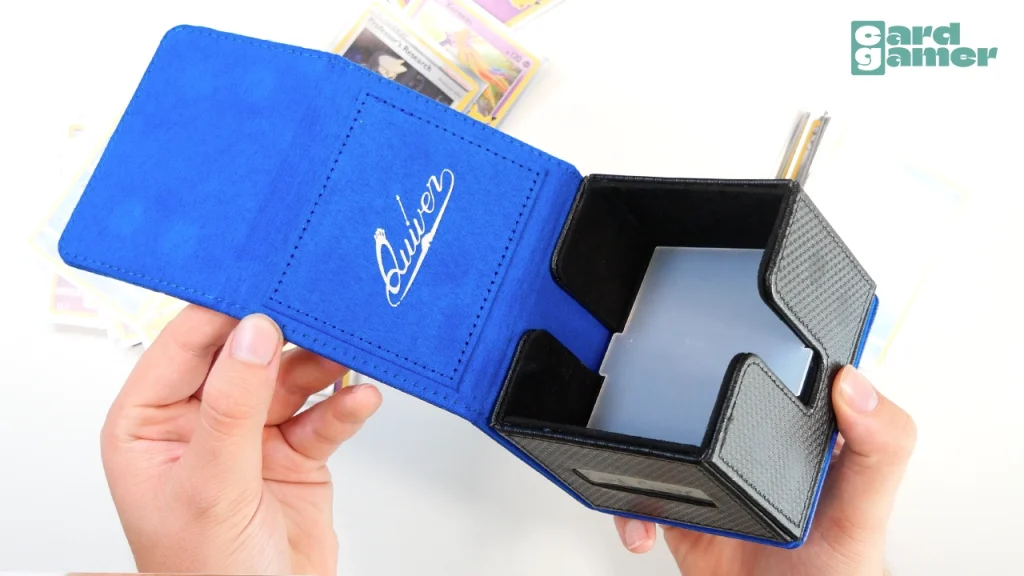 The fake leather exterior is fairly durable, although because it's fake leather you will get slight rips, or tears of the fabric if you use this is a weekly deck block, it's just going to happen.
Small chips don't take away from the build quality or the protection aspect of the product, but it does certainly make your deck block look worn after a couple of months, and that's the disadvantage of using a fake leather instead of a hard plastic for example.
Quiver Time wants to find the middle ground. They want to build a great looking premium product that feels (and smells) great, all while being protective for years, and i agree that fake leather is a good choice.
It also differentiates them from many of the competition.
The interior block is duarble, hard, tough and can be used on it's own should you want too.
However, I did notice when I look closely between the hard exterior, and the soft velvet interior walls that i can see glue hardened. It's not the end of the world, but nobody wants to see glue coming out of the cracks on a "premium" deck block.
Deck Block Playability & Transportation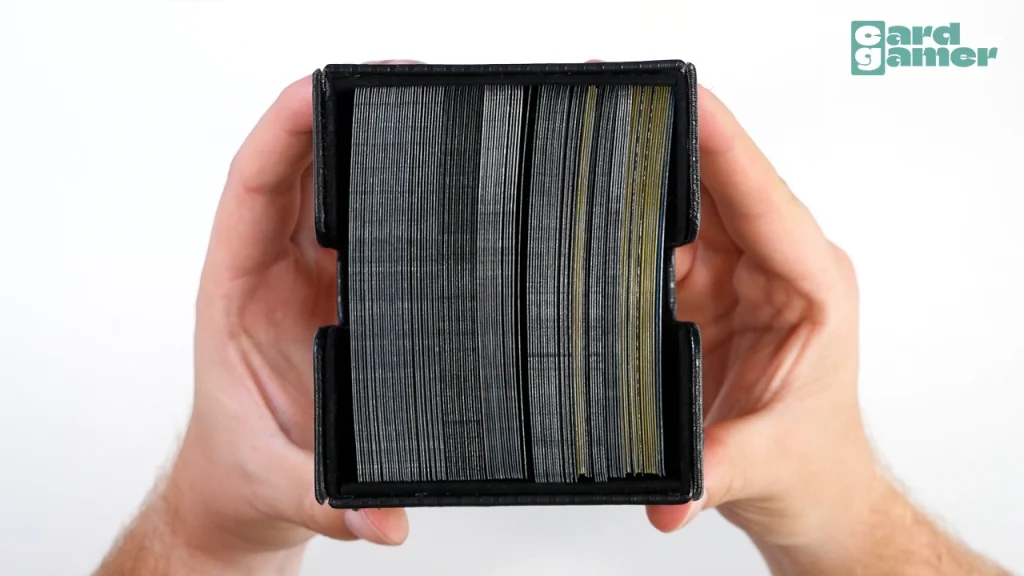 Accessing your cards and your best MTG accessories for example is easy. The dimensions are perfect for sleeved cards, maybe even too perfect. I say this because it fits flawlessly.
One millimetres of calculation and the deck block would be too loose or to tight for cards, but this fits them perfectly, it's impressive because they don't move around when the deck block is on a surface.
The side cutouts partnered with a divider makes it easy to access all areas of the block without issue, and it can be even used as a scorecard if you have the correct sharpie.
Because the cards fit so snug, and the magnets are so strong, this is a superb deck block to travel with in your bag, I have yet to find it open in my bag when travelling.
You would need something to slot into the walls and pull it apart hard to get this thing to open in a bag, perhaps a small book or something could to it, but im confident you won't have any issues.
Overall Opinion
Overall I consider the Citadel Deck Block one of the best on the market for under $40, it does everything it should in style, while adding small details, and features that make the product feel like it can last a life-time.
100 cards is enough to give yourself a wide deck selection when on the go, and with the added divider allowing for accessories or dice, it adds to the premium nature of this product.
It's one of the deck blocks I use the most, and it's still going strong 3 months in!
This article may contain affiliate links. If you use these links to purchase an item we may earn a commission. Thank you for your support.